We are an SSI Instructor Training Center and will conduct all courses following the standards and procedures of SSI International.
Try Scuba Diving
A one-dive experience that introduces you to the excitement of breathing underwater. Our dive dhoni takes you to the clear waters of a lagoon where you learn the basics of diving before going on a guided dive with your instructor. The lagoon offers an ideal learning environment with calm waters and a controlled depth, yet plenty of fish, corals and marine life to encounter.
SSI Basic Diver
For those with a limited amount of time, the Basic Diver course is ideal. Consisting of 3 confined water dives and 2 open water dives and a shortened theory requirement, the course can be completed in as little as three days. Upon completion, you receive a certification allowing you to dive anywhere in the world with an SSI professional. This qualification can be upgraded to Open Water Diver at any stage with any SSI dive centre.
Open Water Diver
The full entry-level course, this course qualifies you to dive with a buddy to a depth of 18m. Consisting of confined water dives, till all scuba skills are mastered and 4 open water dives, this course can be completed in as little of 5 days or over a period of time to suit your schedule.
With Sea Explorers, all dives are boat dives with confined water sessions held in the clean waters of a nearby lagoon. Our open water training dives are held on the beautiful reefs.
Children
Children over the age of 8 are able to join the full courses and receive certification as junior divers. For the younger ones there is a range of exciting options…
Snorkeling
Snorkeling is open to all ages, offering a simple, safe and fun way to explore the underwater world. Many of our dive sites offer excellent snorkeling opportunities.
Seal Team
For children over the age of 8, Seal team lets them discover the fun of diving under the close supervision of a professional. Held in calm, confined water to a maximum depth of 2 meters, this will be an exciting experience they will never forget.
Continuing Education
Once you have achieved your basic certification there is a world of exciting diving opportunities waiting for you to explore. The wide range of continuing education courses offered by Sea Explorers gives you the chance to learn new skills, experience diverse situations, encounter amazing marine life and embark on new adventures.
Ideal for novice divers who want to gain more experience or seasoned divers who want to explore new interests, there is bound to be a course that appeals to you.
Adventure Dives
Adventure dives let you try out the specialty areas that interest you the most. You can do one or you can do them all: it is your choice. Each adventure dive introduces you to the basics of the specialty area through independent study then lets you experience it directly with a single dive under the guidance of an instructor.
Diver Stressand Rescue
The Rescue Diver course builds and expands on the basic safety and problem management learnt in the open water course and teaches you the skills required to handle dive emergencies and directly assist other divers in trouble. As a rescue diver you learn to look beyond yourself and consider the safety and well being of other divers. The course is challenging and rewarding as well as being a lot of fun.
React Right
Developed to provide the first aid requirement for Rescue Divers, the React Right course is also ideal for anyone interested in preparing themselves for an emergency. The course covers CPR and life saving first aid procedures in a logical, easy to remember fashion that gives you the confidence to assist someone when they need it the most.
Specialty Courses and Adventure Dives
available include:
Boat Diving:
The most popular form of diving in the Maldives: boat diving gives you access to numerous dive sites that would be otherwise unreachable. If you are unfamiliar with boats and would like to know more about procedures, terminology and safety considerations, the Boat Diving specialty will help you feel at home on the sea. This course consists of two open water training dives.
Coral Reef Conservation:
a short non-diving course that introduces you to the vital role of coral reefs in marine ecology, the threats that face them and what we can do to help ensure their survival.
Deep Diving:
"What is it like at 30m deep?" "How long can I stay?" "Do I have to make special stops?" All these questions and more are answered with the deep diving specialty course. Deep diving is fun and safe if conducted properly. Let a professional introduce you to the skills, knowledge and procedures needed to safely explore the deeper waters. The Deep Diving specialty course consists of four open water training dives.
Waves,Tides and Currents:
Drift diving can be exhilarating, zipping along with the currents is as close as you can get to flying. The drift diver specialty course will introduce you to the special procedures and safety issues involved with this type of diving allowing you to feel comfortable diving in the famous strong currents of the Maldives. This course consists of two open water training dives.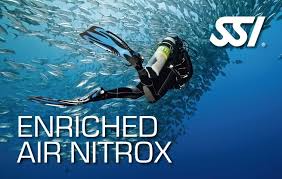 Enriched Air Nitrox:
Dive safer and longer with enriched air. Nitrox is air that has a higher percentage of oxygen than normal. This decreases the amount of nitrogen your body absorbs making diving safer or allowing you to stay longer at depth. The Enriched Air specialty course explains the benefits and hazards of diving with enriched air and how to safely plan dives to achieve the maximum advantage
Equipment Techniques:
An interesting course that teaches you more about the gear you use. How it is put together, how it works and how to look after it properly. While this course won't turn you into a repair technician, it will give you a lot more understanding of your equipment and how to perform routine maintenance. You will also get to see and play with a wide range of dive gear.
Night Diving.
Enter a whole new world. Diving at night makes an exciting change from diving during the day. The colorful, lively world illuminated by your dive light is very different; even familiar sites have a whole new perspective. Nocturnal animals such as octopus and shrimp are seen out while the familiar fish and turtles are often seen tucked into rocks, sleeping. Brilliantly colored coral polyps are extended and bioluminescent plankton make you feel as if you are swimming through the starry sky. Night diving also comes with its own challenges and safety requirements. The night diving specialty course teaches you all you need to know to enter this new world safely and with confidence. This course consists of three open water dives.
Fish Identification.
"What is that pretty redfish with the blue spots?" "Did you see all those silverfish with the black stripes?" The phenomenal fish life of the Maldives is world-famous. If you would like to know more about the fish you encounter, the Fish ID adventure dive is for you. You will learn about the different families of fish and what identifying features distinguish them from each other. You will also learn how scientists conduct surveys on the variety and abundance of fish life and how you can help with this.
Perfect Buoyancy.
Buoyancy control is a vital skill for divers. Being able to control your buoyancy lets you go where you want to go when you want to go there. It makes diving safer for you and prevents damage to the coral reefs. It is also a skill that takes practice to master. The peak performance buoyancy course gives you that practice in a controlled environment with the help of a professional. It is also a lot of fun: perfect neutral buoyancy is the closest most of us will get to a zero-gravity environment; let the astronaut in you run free.
Search and Recovery:
Nearly every one has lost something into the sea at some point, be it sunglasses, a fishing rod or the anchor of a boat. As divers we are often asked if we can help find them. If anyone has tried a random search you will know how quickly things disappear from view even in seemingly clear water. The Search and Recovery course gives you the skills required to turn fruitless frustration into success. Covering search patterns, navigation techniques and the use of lifting bags, the Search and Recovery specialty course is a fun hands on experience consisting of four open water training dives.
Underwater Navigation:
Under water is a whole new world when it comes to finding your way around. Knowing where you are and where you are going helps you conserve air and energy and lets you see what you went diving to see. The Underwater Navigation course teaches you the techniques of natural navigation, compass use, distance estimation and dive patterns. Enjoyable and rewarding, this course gives you the confidence that comes with being in control of where you are. The course consists of three open water training dives.
Underwater Photography:
Capture the incredible beauty and amazing marine life as a permanent reminder for yourself and to share with your friends. Underwater photography is a challenging and satisfying hobby with tangible results. The underwater photography specialty course is an introduction to the art and science of photography and the special considerations when applying photographic techniques under the sea. It includes two open water training dives.
Wreck Diving:
Whether you are interested in wrecks for the excitement and challenge or a chance to witness history, there is no doubt that wreck diving is one of the most popular dive activities. The wreck diving specialty course familiarizes you with the techniques and procedures used to let you safely explore, map and penetrate a wreck. The course consists of four open water training dives.